Details

Parent Category: Programming Assignments' Solutions
We Helped With This MATLAB Programming Homework: Have A Similar One?
SOLVED

Short Assignment Requirements
Hi, I would like help completing my MATLAB programming assignment for my math class. The instructions of the assignment are attached in Prog2. The SunEarthMoon.m that we are to modify is attached as well.
Assignment Image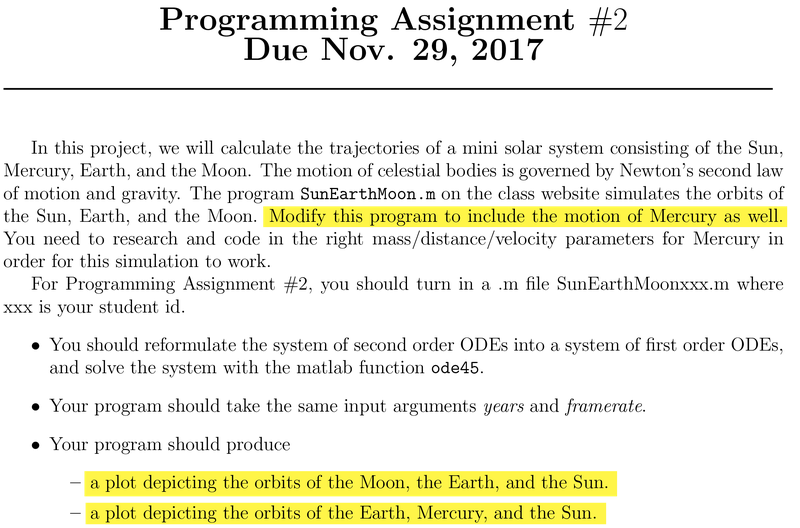 Programming Assignment #2 Due Nov. 29, 2017 In this project, we will calculate the trajectories of a mini solar system consisting of the Sun, Mercury, Earth, and the Moon. The motion of celestial bodies is governed by Newton's second law of motion and gravity. The program SunEarthMoon.m on the class website simulates the orbits of the Sun, Earth, and the Moon. Modify this program to include the motion of Mercury as well. You need to research and code in the right mass/distance/velocity parameters for Mercury in order for this simulation to work. For Programming Assignment #2, you should turn in a .m file SunEarthMoonxxx.m where xxx is your student id. • You should reformulate the system of second order ODEs into a system of first order ODES, and solve the system with the matlab function ode45. • Your program should take the same input arguments years and framerate. • Your program should produce a plot depicting the orbits of the Moon, the Earth, and the Sun. - a plot depicting the orbits of the Earth, Mercury, and the Sun.
Assignment Code

function [] = SunEarthMoon(years,framerate)
%% SunEarthMoon
% Final Project
% By: Eric Keldrauk
% Submission Date: 12/01/2008
% MATH 128A
% 
% The purpose of this function is to plot the orbits of the sun, earth, and
% moon over a specified time period (Note that time periods in excess of 20
% years will require large runtimes). 
%
% Inputs:
%   years     = Observation Time Period (years)
%   framerate = Video Speed (typically between 1 and 1000)

%% Clean Up
close all
clc

%% Initializaion
x_earth = 147300000000; % [m]
v_earth = 30257; % [m/s]
r_sat = 384748000; % earth surface [m]
r_earth = 6367000; % earth radius [m]
v_sat = 1023; % relative velocity from earth [m/s]
a = 5.145; % Angle to vertical (y) axis 
b = 90; % Angle to horizontal (x) axis in xz plane

x_earth_o = [x_earth; 0; 0];
x_sun_o = [0; 0; 0];
x_sat_o = [x_earth+r_sat; 0; 0];
v_earth_o = [0; v_earth; 0];
v_sun_o = [0; 0; 0];
v_sat_o = v_sat*[cos(pi/180*b)*sin(pi/180*a); cos(pi/180*a); sin(pi/180*b)*sin(pi/180*a)] + v_earth_o;
interval = years*[0 31536000];

%% Error Control
h = [0.01 36000];
tol = 100000;
Options.AbsTol = tol;
Options.MaxStep = h(2);
Options.InitialStep = h(1);

%% Analysis
ao = [x_earth_o; v_earth_o; x_sun_o; v_sun_o; x_sat_o; v_sat_o]; 
[t, x] = ode45(@earthfinal,interval,ao,Options);
for i = 1:length(t)
    R1(i) = (x(i,13)-x(i,1));
    R2(i) = (x(i,14)-x(i,2));
    R3(i) = (x(i,15)-x(i,3));
    R(i) = sqrt(R1(i)^2+R2(i)^2+R3(i)^2);
end
T_index_earth = find([1; x(:,4)].*[x(:,4);1]<=0);
T_index_moon = find([1; R2(:)].*[R2(:); 1]<=0);
for i = 4:length(T_index_earth)
    T_earth_semi(i-3) = (t(T_index_earth(i)-1)-t(T_index_earth(i-2)-1))/24/60/60;
end
T_earth = mean(T_earth_semi);
for i = 4:length(T_index_moon)
    T_moon_semi(i-3) = (t(T_index_moon(i)-1)-t(T_index_moon(i-2)-1))/24/60/60;
end
T_moon = mean(T_moon_semi);
D_earth = 0;
for i = 2:(T_index_earth(4)-1)
    D_earth = D_earth + sqrt((x(i,1)-x(i-1,1))^2+(x(i,2)-x(i-1,2))^2+(x(i,3)-x(i-1,3))^2);
end
D_moon = 0;
for i = 2:(T_index_moon(4)-1)
    D_moon = D_moon + sqrt((R1(i)-R1(i-1))^2+(R2(i)-R2(i-1))^2+(R3(i)-R3(i-1))^2);
end

%% Plots
q = framerate;
scrsz = get(0,'ScreenSize');
figure('position', [0.05*scrsz(3) 0.05*scrsz(4) 0.75*scrsz(3) 0.85*scrsz(4)])
set(gcf,'name','Sun, Earth, and Moon Orbits')
for i = 1:length(t)/q
    subplot(2,2,1)
    plot3(x(1:i*q,1),x(1:i*q,2),x(1:i*q,3),'g',x(1:i*q,7),x(1:i*q,8),x(1:i*q,9),'r',x(1:i*q,13),x(1:i*q,14),x(1:i*q,15),'b')
    axis(1.1*[min(x(:,1)) max(x(:,1)) min(x(:,2)) max(x(:,2)) 2*min(x(:,15)) 2*max(x(:,15))])
    xlabel('Universal X Coordinate (m)')
    ylabel('Universal Y Coordinate (m)')
    zlabel('Universal Z Coordinate (m)')
    title('Relative Orbits')
    legend('Earth','Sun','Moon')
    hold on
    plot3(x(i*q,1),x(i*q,2),x(i*q,3),'g-o',x(i*q,7),x(i*q,8),x(i*q,9),'r-o',x(i*q,13),x(i*q,14),x(i*q,15),'b-o')
    hold off
    
    subplot(2,2,2)
    plot3(R1(1:i*q),R2(1:i*q),R3(1:i*q),'b',zeros(1,i*q),zeros(1,i*q),zeros(1,i*q),'g')
    axis(1.5*[min(R1) max(R1) min(R2) max(R2) min(R3) max(R3)])
    xlabel('Universal X Coordinate (m)')
    ylabel('Universal Y Coordinate (m)')
    zlabel('Universal Z Coordinate (m)')
    title('Relative Moon Orbit About Earth')
    hold on
    plot3(R1(i*q),R2(i*q),R3(i*q),'b-o',0,0,0,'g-o')
    text(0,1.45*max(R2),1.40*max(R3),sprintf('Orbital Period, T = %3.5g days',T_moon))
    text(0,1.45*max(R2),1.15*max(R3),sprintf('Orbital Circumference, D = %3.5g gigameters',D_moon*1e-9))
    hold off
    
    subplot(2,2,3)
    plot(x(1:i*q,1),x(1:i*q,2),'g',x(1:i*q,7),x(1:i*q,8),'r')
    axis(1.5*[min(x(:,1)) max(x(:,1)) min(x(:,2)) max(x(:,2))])
    xlabel('Universal X Coordinate (m)')
    ylabel('Universal Y Coordinate (m)')
    title('Relative Earth Orbit About Sun')
    hold on
    plot(x(i*q,1),x(i*q,2),'g-o',x(i*q,7),x(i*q,8),'r-o')
    text(1.45*min(x(:,1)),1.40*max(x(:,2)),sprintf('Orbital Period, T = %3.5g days',T_earth))
    text(1.45*min(x(:,1)),1.25*max(x(:,2)),sprintf('Orbital Circumference, D = %3.5g gigameters',D_earth*1e-9))
    text(1.45*min(x(:,1)),1.40*min(x(:,2)),sprintf('Time, t = %3.3g days',round(t(q*i)/24/60/60)))
    hold off
    
    subplot(2,2,4)
    plot(t(1:i*q)/(60*60*24),R(1:i*q)/1000,'b')
    axis([t(1)/24/60/60 t(end)/24/60/60 0.999*min(R)/1000 1.001*max(R)/1000])
    xlabel('Time,t (days)')
    ylabel('Orbit Radius, R (km)')
    title('Moon-Earth Distance')
    hold on
    plot(t(i*q)/(60*60*24),R(i*q)/1000,'b-o')
    hold off
    
    drawnow
end
end

%% Differential Equation Function
function [udot]= earthfinal(t,u)
m_earth = 5.9742e24; % [kg]
m_sun = 1.98892e30; % [kg]
m_sat = 11110; % [kg]
G = 6.67300e-11; %[(m)^3(kg)^-1(s)^-2];

d_earth_sun = sqrt((u( 7,1)-u(1,1))^2+(u( 8,1)-u(2,1))^2+(u( 9,1)-u(3,1))^2);
d_earth_sat = sqrt((u(13,1)-u(1,1))^2+(u(14,1)-u(2,1))^2+(u(15,1)-u(3,1))^2);
d_sun_sat =   sqrt((u(13,1)-u(7,1))^2+(u(14,1)-u(8,1))^2+(u(15,1)-u(9,1))^2);

% Earth motion
udot( 1,1) = u(4,1);
udot( 2,1) = u(5,1);
udot( 3,1) = u(6,1);
udot( 4,1) = m_sun*G*(u(7,1)-u(1,1))/d_earth_sun^3 + m_sat*G*(u(13,1)-u(1,1))/d_earth_sat^3;
udot( 5,1) = m_sun*G*(u(8,1)-u(2,1))/d_earth_sun^3 + m_sat*G*(u(14,1)-u(2,1))/d_earth_sat^3;
udot( 6,1) = m_sun*G*(u(9,1)-u(3,1))/d_earth_sun^3 + m_sat*G*(u(15,1)-u(3,1))/d_earth_sat^3;
% Sun Motion
udot( 7,1) = u(10,1);
udot( 8,1) = u(11,1);
udot( 9,1) = u(12,1);
udot(10,1) = m_earth*G*(u(1,1)-u(7,1))/d_earth_sun^3 + m_sat*G*(u(13,1)-u(7,1))/d_sun_sat^3;
udot(11,1) = m_earth*G*(u(2,1)-u(8,1))/d_earth_sun^3 + m_sat*G*(u(14,1)-u(8,1))/d_sun_sat^3;
udot(12,1) = m_earth*G*(u(3,1)-u(9,1))/d_earth_sun^3 + m_sat*G*(u(15,1)-u(9,1))/d_sun_sat^3;
% Satellite Motion
udot(13,1) = u(16,1);
udot(14,1) = u(17,1);
udot(15,1) = u(18,1);
udot(16,1) = m_earth*G*(u(1,1)-u(13,1))/d_earth_sat^3 + m_sun*G*(u(7,1)-u(13,1))/d_sun_sat^3;
udot(17,1) = m_earth*G*(u(2,1)-u(14,1))/d_earth_sat^3 + m_sun*G*(u(8,1)-u(14,1))/d_sun_sat^3;
udot(18,1) = m_earth*G*(u(3,1)-u(15,1))/d_earth_sat^3 + m_sun*G*(u(9,1)-u(15,1))/d_sun_sat^3;
end