Details

Parent Category: Engineering Assignments' Solutions
We Helped With This Mechanical Engineering Assignment: Have A Similar One?
SOLVED

Short Assignment Requirements
i need the assignment as soon as possible and i need one paper explanation on a side and i attach the reference so you use the equation you need .
Assignment Image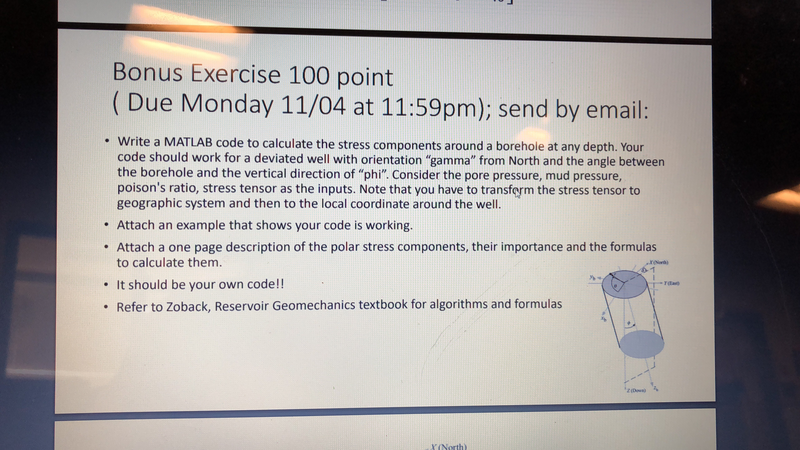 Bonus Exercise 100 point (Due Monday 11/04 at 11:59pm); send by email: • Write a MATLAB code to calculate the stress components around a borehole at any depth. Your code should work for a deviated well with orientation "gamma" from North and the angle between the borehole and the vertical direction of "phi". Consider the pore pressure, mud pressure, poison's ratio, stress tensor as the inputs. Note that you have to transform the stress tensor to geographic system and then to the local coordinate around the well. • Attach an example that shows your code is working. Attach a one page description of the polar stress components, their importance and the formulas to calculate them. • It should be your own code!! • Refer to Zoback, Reservoir Geomechanics textbook for algorithms and formulas 1 X (North) 0 X (North) 27 *Z (Down) Y (East)
Assignment Image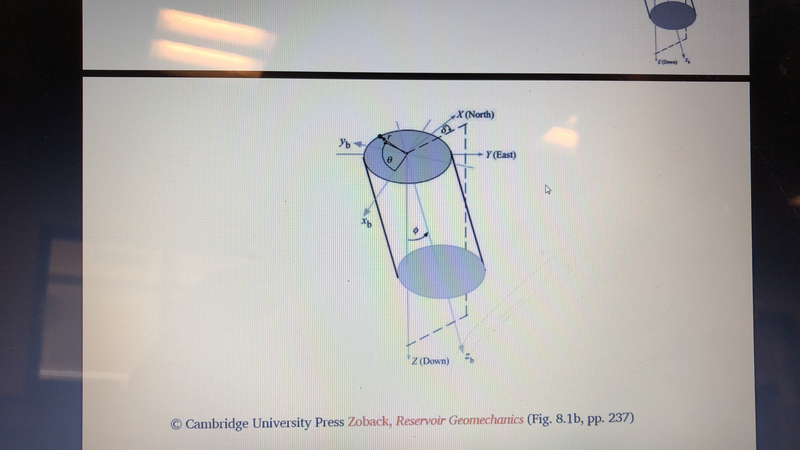 b Tb 0 X (North) 27 Z (Down) Y (East) 4 Ⓒ Cambridge University Press Zoback, Reservoir Geomechanics (Fig. 8.1b, pp. 237) Z (Down)
Assignment Description
Fawaz alqadran
Prof.Bonnie Thibodeau
Eng 101-021
06/10/2014
2 I think feature artcle because it helps me to discover some raw skills that I did not think that I have. For example the descriptive of something or someone.
3 From English 101 I have learned a lot, before I take this class my writing skills was not good but the skills that I have learned in this class improved a lot. Such as the style of the writing and there is more than one way to write an eassy.
5 The biggest challenge was writing in a second language that was hard and it need  a lot of translate for my ideas and thoughts. Moreover the  culture made it more challenging for me because it is new culture and all the things around me is new and the topics is also new because my country is very different than the American culture.
7 I have learned that I am better writer than I thought because the instructors that teach me here is more better than the instructors in my country  and I have learned how to use some of the helping centre like writing centre which he helped me a lot to make my writing more clear and he organize my thought .
9 It helps me exploring my skills and learn more skills like correct other paper which I found very helpful because he let me know other mistakes so that I do not do it to.However it makes me know myself better  and make me develop  my ideas better. For example the narrative makes me write better story about my life.
10 As I said before the biggest challenge the language barrier but I try to make myself better i try to make a conversation between me and any one who is he is the first language is English and I write daily one essay to improve my spelling in English and I buy two books for grammar to help me more for writing well and I visit every day any English website and just read so my reading skills improve as well so I am trying to overcome the  language problem and be a better writer.
11 Yes, I have some ideas that helps me to write better and faster and that by using some article from the internet like a samples then I try to copy the idea and the style of the article that I found and I make it more enjoyable by write about something that I like such as sport or sometimes about someone I really like then I write something beautiful that they really deserve to write about then when he smile or like me writing I enjoy to make this person happy.
12 The conversation I had mostly is study with group in other subject like geology that something I really know but the language make it hard for me but when I heard them talk I become better and know what every word mean then I can speak and everyone can understand me. And the there is a lot of thing in morgentown that can make the writing eassy and to select the topic more easily for example the theatre which I don't have it in my country so it is something new and I become more interesting to write about it so I can know it more and more .
13 I experience that anything you want you must put an effort to make this happen and it is like the writing you will never improve if you just sit and do nothing. I want to remember the skills that I gain from this class and that include how to write essays and how to write stories and what are the right format for that.
14 It helps me with writing for other classes such as anthropology and how can I get better grade in writing better paragraphs. in the other hand this makes my goals easy to reach because I want to become in high position in my country and that will not happen if I don't know how to write well especially if become about the details how to make everything in one sentence or in one essay. However my company required from me to report what happen in like one area and I want to be able to describe it for them like if they are in the same area and English 101 help me to make me able to do this.
15 I will try to sign for classes outside of the university because that way I learn with no fair in loosing grades and I will do my best to make everything around me is totally in English like my phone and my books that I read I will only read English books even when I talked with my Arabic friend I will talk in English. Moreover I will be more focus in what we take everyday and do not think a lot about the other thing for example if we take how to write Feature article I will put my focus in to it and make everything is about it.
16 I will try to go more to the writing center to get more skills and to let my essays better and I will not stop going to study group so I don't forget what I have learned and I will continue reading so my understanding will become better and I will be fast in reading and also I will make my writing is a habit so I can write and have fun in same time.
18 My writing process is simple and it need an improvement some of my ideas is to search for subject that has the same idea form the internet then try to get some ideas from him and I use google translate a lot to help me transform my ideas to English. And there is a book for grammar that I use when I finish so I try to make my writing without any mistake in grammer which I found it very hard put I do my best to revising and spend a lot of time.
19 I will tell them that its good class if you are trying to improve your writing skill but in the same time you will need to work hard if you want to get good English and you must work outside of the class to make yourself better so don't only depend on the class to make you learn everything but still the class give you a lot but an extra work outside it make your English more better.
20 I hope that you consider that I am a second language student and I hope that you don't compare me with others because I am doing my best and I am trying hard to write these essys.