Details

Parent Category: Engineering Assignments' Solutions
We Helped With This Electrical Engineering Assignment: Have A Similar One?
SOLVED

Short Assignment Requirements
I need you to make the matlab the first task I made it alone fine
Assignment Description
College of Engineering Department of Electrical Engineering
ELEC202: Electric Circuits II                                                                                               Spring 2019
Homework Assignment #2
By: Prof. Adel Gastli
Develop a MATLAB script that calculates the current Io in the circuit in Fig. 1 using mesh analysis.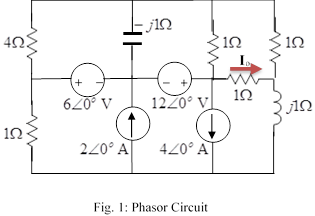 DEADLINE1
Monday February 11, 2019
EXPECTED OUTCOMES OF THIS HOMEWORK
This homework assignment is intended to test the following student's skills and abilities:
1. Solve AC circuits using different techniques.  [Weight 50%]
2. Use computer software to analyze electric circuits.         [Weight 50%]
1 Note: The report should be typed and printed using a Word Processing program. Don't forget to use the standard Homework Assignment Cover Page. Submit your Homework Assignment on Black Board. Late submissions will not be accepted.
Page 1 of 1