Details

Parent Category: Economics Assignments' Solutions
We Helped With This SAS Economics Homework: Have A Similar One?
SOLVED

Short Assignment Requirements
1.Finding the Data: You are encouraged to find a data set which represents a problem of interest to you. You may use a data set retrieved off the Internet, one featured in a journal article, or one collected on your own. Legitimate data sets are more difficult to analyze than contrived data sets often found in textbooks. Also, the more complicated the data setting, the more complex and potentially problematic the analysis.2.Analyzing the Data: You are not expected to apply every method that was discussed in class. Please see the rubric.3. Reporting the Results: Your final write-up should include a description of the nature of your data set and a discussion of the steps involved in your analysis. Make certain to include a description of the questions of interest posed by the data set and a discussion of how your analysis addresses these questions. The write-up should be presented as a report. It should include only the SAS and/or R output needed to illustrate the key points in your discussion. Please neatly merge the output with the body of your discussion. Do not present the majority of the output at the end of your report. Your report should be prepared using a word processor. You should not feel compelled to write your report to confirm to a prescribed length. It is suggested to have maximum length 5 pages double-spaced including SAS/R output. Please submit a hard-copy report by 12 noon on Friday, December 8. Since a significant part of your score will be determined by how well you communicate important concept, you are encouraged to have another student read your report and critique your exposition. Please turn in your final project on or before your presentation date.
Assignment Image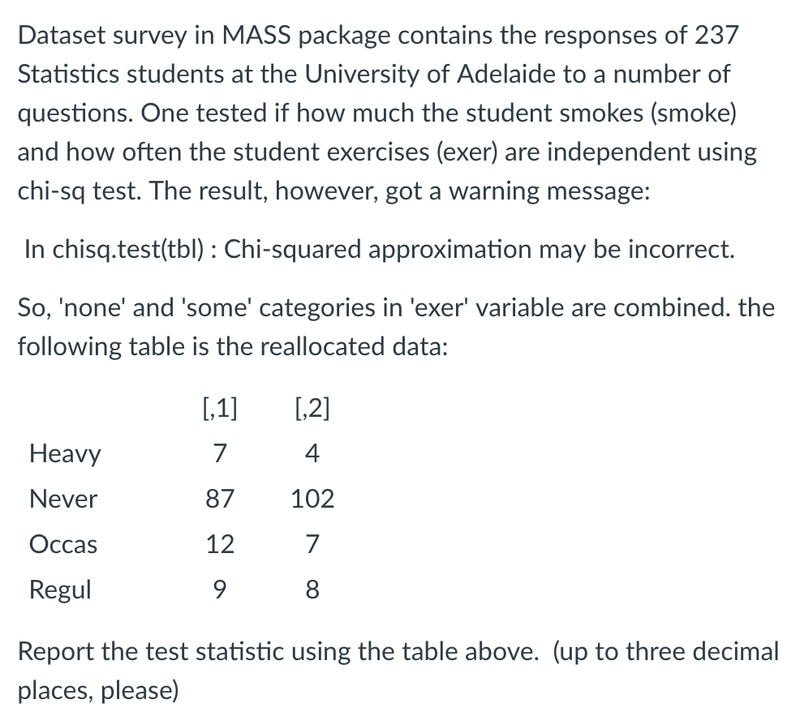 Dataset survey in MASS package contains the responses of 237 Statistics students at the University of Adelaide to a number of questions. One tested if how much the student smokes (smoke) and how often the student exercises (exer) are independent using chi-sq test. The result, however, got a warning message: In chisq.test(tbl) : Chi-squared approximation may be incorrect. So, 'none' and 'some' categories in 'exer' variable are combined. the following table is the reallocated data: Heavy Never Occas Regul [,1] [₁2] 7 4 87 102 12 7 9 8 Report the test statistic using the table above. (up to three decimal places, please)